The "
Big Three
" is a nickname for the biggest and strongest vehicles in
Need for Madness 2
. They are able to waste other game cars easily. These three cars are known as
EL KING
,
M A S H E E N
, and
DR Monstaa
.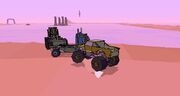 In the original NFM game, there was only two of these cars (since M A S H E E N was introduced in NFM 2,) and as such were coined as the "Big Two."
All of these cars excel at one trait and usually have at least one stat maxed, with:
Other names
Edit
As the term "Big 3" is unofficial, there are many names for them, with the following being the most common:
Ad blocker interference detected!
Wikia is a free-to-use site that makes money from advertising. We have a modified experience for viewers using ad blockers

Wikia is not accessible if you've made further modifications. Remove the custom ad blocker rule(s) and the page will load as expected.