Finally after a lot of hard work the Car Maker is finished and has been released! The Car Maker is included in both the multiplayer and the single player downloadable version of the game.
- Omar Waly, explaining the release of the Editor
The Car Editor, or Car Creator is a new feature in Need For Madness Multiplayer that allows the player to create cars for Multiplayer use, for their 'NFM Version' or for pure entertainment.
It is highly recommended that the tutorials for the Car Maker are carefully read before use, especially for those who are not familiar with Hacking Cars. Though the process is quite long and tiring, the car created is worth the time used.
Instead of putting down flat polygons to create the car, the script for each part of the car must be placed separately. Therefore, a method of recording and measuring data, most conveniently on paper or a notepad, virtual or not, is recommended for drafting the car. According to the tutorial from the website, it is stated that the most recommended type of data recording is via drawing the car on a piece of paper. It is also extremely advised to think of the car's parts in three dimensions, as drawing the front, side, and back views are needed. There is a polygon limit of 210 pieces per car, with all polygons used result in a Super Car.
Once the car is finished, it can be sorted into different categories, such as a speed demon (like Formula 7 or Mighty Eight), or a waster (like EL KING or MASHEEN). The car's colour, shape and name can also be chosen in this process. The player is also able to specify which class the car would fall to (such as Class B&C). The car stats are kept fair so that one will not be able to include ALL of the stats up to maximum (For explanation: maximum Top Speed, Acceleration, Handling, Stunts, Strength and Endurance are not allowed altogether) and they are also affected based on the class the car has been specified into.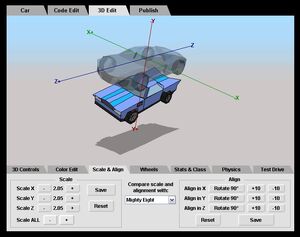 The editor is available for the new downloadable edition of Need for Madness (offline), and also for the existing downloadable Muiltplayer version for people with accounts. Unregistered users can also create cars as well, but are limited to using them offline, and cannot be used during Multiplayer. This has also caused a small outrage within the Multiplayer community, especially those who cannot register.
An extremely interesting feature of the Editor is that it uses the same codes as in the original games. It is possible to copy-paste a car's code from Need For Madness and insert it into the game. The car may then be altered, usually in stats or colors.
It is also possible to create cars via the usage of 3D modelling programs such as Google SketchUp and Blender. They can be exported as .obj files and users can import these files to the Car Maker, to which they can recolor and finalize their car.
The Stat Points
Edit
The stat points for each car type are as follows:
Class C: 520 points
Class B + C: 560 points
Class B: 600 points
Class A + B: 640 points
Class A: 680 points
The use of points effectively restricts overpowered cars, or high in all stats, and 'overpowered' cars from entering a starter car game, in other cases, online. Though balancing the car's statistics are not simple. The safest way to balance a car is to select High Rider's statisticss and make them Class A. Some other cars for creating Class A cars are:
Racer Statistics
Edit
Radical One
High Rider
Mighty Eight
Waster Statistics
Edit
All-Round Statistics
Edit
Sword of Justice
Radical One
DR Monstaa
The editor allows users to control the overall physics of the car, further customizing it. Statistics that were generally hidden are now available for the user to experiment. These include grip, bounciness, turning sensitivity, hand braking, aerial control, visual damage, pushing, lifting, and even engine sounds. Altering the physics will often affect the overall statistics of a car.
Tips and Tricks
Edit
Adding gr() and fs() values are known to fix certain overlapping issues with certain pieces. This is especially evident with the original game cars.
It is well known that adding gr(-18) to a piece will cause it to flicker. This also works with wheels.
gr(-10) will cause a piece to glow.
Adding gr(-15) results in a 'broken' or 'damaged' piece.
Adding

gr(1111111111)

will cause a piece to become transparent.
Add gr(-13) and it will become completely invisible to both the opponents and the player. The only thing that will be seen from the car is its shadow.
The Car Editor was finally released on the 5th March 2012. It was officially announced on the Need For Madness Facebook Group at around 11:00 that night. Immediately after it's post, many members have liked, commented, and shared feedback in mass amounts.
The Publish option for the Car Maker was released on 11th April 2012. Since then, people have been starting to publish their own custom cars.
Criticisms
Edit
Though Omar Waly has released it, there are still some criticisms, due to one of his notes that says that The Custom Cars will only be playable online in Need For Madness Multiplayer for registered players.
Another issue with this is the coding limit before over-coding the stage is decreased severely for test drives, and car statues will now cause errors to the stage.
Registered users have been subjected to the annoyance of unregistered users asking for passwords just for the access to the cars players have created, regardless of whether they were public or private. Also, cars were being created and published with overly sized wheels and/or rims and wheels that were too close to the center, sometimes making them almost impossible to directly waste them. The April 19th 2012 update restricts users from publishing cars with overly sized wheels along with some errors, although there have been a few instances that it can be bypassed.
Link to offline downloadable version.