For other uses, see Car Select (Disambiguation).

A soundtrack which is used in Need For Madness Multiplayer has a bit of a spooky feeling. However, it still conveys a sizeable amount of energy which possibly makes it invigorating to the player. The song is called "Rocka Och Runka". It has a bit like "take on the world" feel to it. After car selection, it continues to play when you're selecting a stage, unlike the first and second Need For Madness.
In October 13th, 2012, "Rocka Och Runka" has been replaced with a new song called "Arcane". It is relatively energetic and makes the player want to get racing ASAP(it stands for, "as soon as possible"). However, this song still continues to play after car selection.
Soundtrack
Edit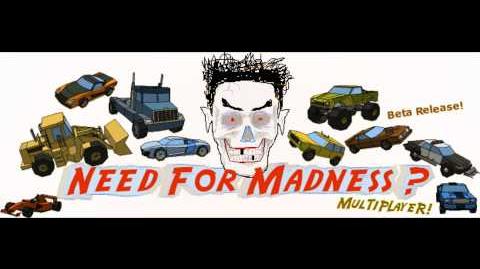 External Links
Edit
Rocka och Runka song from ModArchive - here
Arcane song from ModArchive - here
Ad blocker interference detected!
Wikia is a free-to-use site that makes money from advertising. We have a modified experience for viewers using ad blockers

Wikia is not accessible if you've made further modifications. Remove the custom ad blocker rule(s) and the page will load as expected.