Let the Dream Begin

The countryside race

Appears in

Boss Car

Drifter X (Unlocked on completion)

Number of Laps

3

Main feature

Racing

Soundtrack

Number of Checkpoints

4

Recommended Strategy

Race

AI Behavior

Race

Preceded by

Followed by
Let the Dream Begin
is the second stage in
Need For Madness 2
and is very similar to
its counterpart
in
Need For Madness
.
Overview
Edit
This stage is basically an mirrored version of Contrary To Popular Belief from Need For Madness. Its consists of various types of ramps with no hazards of any sort. This stage has 3 laps, with Drifter X as the boss.
Much like the previous stage, racing is the best choice. La Vita Crab or MAX Revenge will plow through this easily (although you might want to restart if Formula 7 is in the race).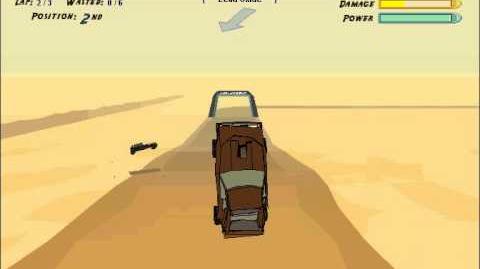 This is NOT recomended, even though Lead Oxide is at your disposal. If you do, however, Wow Caninaro or Lead Oxide should be used. Drive the wrong way around and waste cars that you meet (or go hunting for cars if you like).
Wasting Areas:
Use the first dirt ramp and stunt to the far-off Mini-Ramp. Then go backwards from there. It should be easy with a strong car like Wow Caninaro or Lead Oxide.
Go to the finish line, and go backwards through said checkpoint. Waste the incoming cars who have just fixed with Wow Caninaro or Lead Oxide. MAX Revenge will do this well too.
In the 2nd checkpoint, the AI will waste there. Make sure that your position is 5th to 7th,and waste with the AI