Need For Madness: Revised and Recharged
Comments

69
271pages on
this wiki
This article or section is in need of additional or higher-quality images.

If you have a good image for this article,
please upload it at Special:Upload!
Need For Madness: Revised and Recharged
is a fan-game created by
NeedForMadnessExpert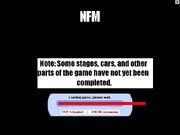 (Youtube name), which the words "Revised" and "Recharged" are a symbol to how much
Need For Madness
and
Need For Madness 2
were lacking in.
Note: The [?] represents unknown information, which is yet to be added if reliable information is gained.
This game was developed 1.5 years ago, some time after Need For Madness was released. It consisted of 50 stages and 56 cars at that time, and was very glitchy.
As of now, the game is still incomplete, but people can download the game via some links, currently with 32 cars and 50 stages.
What makes the game so popular is the multiple hacks that where added, which included more cars, more stages, new track pieces, and floating track pieces. Though it sounds fun, it is very extreme. For example, Nuclear Warhead's speed, The Destroyer's madness, and KILL-O-MATIC's revenge.
The Nuclear Warhead can actually achieve power beyond the max, making every car it wastes stretched and when you do stunts with it you get into impossible altitudes.
The Lightning Rod is a very glitchy car, going into the air when it touches a car, launching cars into the air sometimes and if you don't land it on all 4 wheels, it flips the car on the roof.
The Destroyer can get infinite power, going faster than you think.
Seldom, the game can lag even in fast computers