Popcorn is a soundtrack used in Need For Madness 2. The soundtrack is played in the thirteenth
stage of the game, Digger's Revenge, and is a fitting song specifically for MASHEEN, due to his
extreme wasting capabillities, and the song itself provides a feeling of singing,
"I'm mashing, get out of my way" as a melody.
Development
Edit
"Popcorn" is a classic song dating back all the way to the '80s, and was remixed various times depending on the age. The 2 most prominent are Crazy Frog's version and the remix by Omar Waly although there are other noticeable remixes.
Lyrics and Emotion
Edit
There are no lyrics in this stage. It's emotion is extremely classic, giving the chance for the player to relax after playing Suddenly the King becomes Santa's Little Helper after evading MASHEEN.
Soundtrack
Edit
A soundtrack of the song can be found here: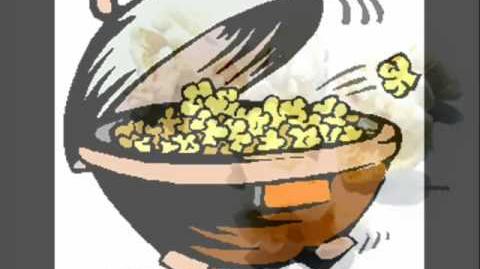 This soundtrack infact, contains copyright content from one or more Music Publishing Rights Collecting Societies. This may also apply to several PopCorn soundtracks, even those obtained from the ModArchive.org. If one was to record a gameplay with a popcorn soundtrack, it is recommended that the player 'mutes' the soundtrack either while recording or video editing and replace with silence or other music/soundtracks to avoid such infringement.
The song is in A flat, but the original is in B minor.
This song is remix for popcorn
External Links
Edit
Original song can be found here
Ad blocker interference detected!
Wikia is a free-to-use site that makes money from advertising. We have a modified experience for viewers using ad blockers

Wikia is not accessible if you've made further modifications. Remove the custom ad blocker rule(s) and the page will load as expected.