This page contains custom content created by a Need For Madness user. This is not official content of the game,it is fan made.


Team Oranje Fénix
is a new Need For Madness Multiplayer clan which was created after
Team Infinity was disbanded. This clan stands for re-birth of a new clan. It has been well underway
since the group was created on March 30th, 2012.
The name of this team is a mix of Portuguese and Dutch words, based off the leaders home countries. Oranje in Dutch stands for 'Orange', while Fénix stands for 'Phoenix' in Portuguese. This clan's motto is "Freedom, Honor, and Respect."
TOF is currently allied with Team Aero and Team Formula 7.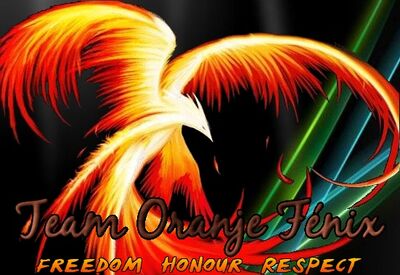 Member List
Edit
This clan formally used a Medieval Ranking System, now changed to a democracy to make the system simpler:
Administrators - They are basically the leaders of the clan and give guidance to its members in the direction it needs to go, they have certain responsibilites that the others dont cary such as look after giving out strikes and inviting members to join, they also look after the teams YouTube account and TOF forums but are in no sense more superior to the Public:
Kitty []
Thunder-Edge []
LegnaK []
Community - These are the citizens of the clan and help decide important decisions along side the Administrators. They have almost as much power but not as many responsibilities:
koner1 []
rafa1231518 []
Red []
Nuttyboy812 []
SpeedMaster []
BigM []
Alex@TOF []
Lunatic []
f687 []
Excalibur (Hydra) []
Pineapple []
Midnight []
Circus (Lexi) []
Sassy (SaSS) []
theDK@TOF []
Shockey []
DarkSpidey (U-3 Mighty) []
Allies - Fellow clans/people that are allied with TOF
Clan Allies:
Individual Allies:
VS Phi  5-1 to TOF
TOF & Phi vs NFM Elites & Most Wanted 5-0 to Elites and MW.
VS NFM Elites 5-0 to NFM Elites
VS Most Wanted 5-0 to Most Wanted.
Ad blocker interference detected!
Wikia is a free-to-use site that makes money from advertising. We have a modified experience for viewers using ad blockers

Wikia is not accessible if you've made further modifications. Remove the custom ad blocker rule(s) and the page will load as expected.