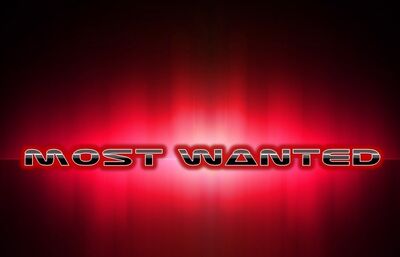 Most Wanted
is one of the first
Need For Madness Multiplayer
clans. The name of Most Wanted was originally DooM, which started in March 2011. It was quickly renamed to NFM Black Ops later
(which might have been given the idea from Call of Duty Black Ops), as suggested by SinfulBliss. Some time after, NFM Black Ops merged with a clan called AIM Super Soliders.
NFM Black Ops was renamed to Most Wanted. Most wanted is currently the 2nd biggest clan.

Its leader is WolfInABox aka Wolf@MW and the co-leader is Zee. Most Wanted has a YouTube
channel called NFMMasters.

Currently, Most Wanted is allied with NFM Elites.
Overview
Most Wanted has merged with Deadman Wonderland to create a united clan.

Most Wanted does not approve Multi-clanning although a member of MW can be an ALLY to another clan if s/he wants to. Most Wanted accepts and declare wars. The official colours for this clan is Dark Red + Blue as an indication to which player is in which clan during a war.

Most Wanted is an Invite-Only clan as of 1st November 2012, which means that the clan does not take requests to join. The only way to join Most Wanted is you being invited to join, but Most Wanted will not invite anyone else. Only the best ones may get invited to join Most Wanted. In simple terms, you have to be requested to join the clan from its Leaders and Co-Leaders, not you requesting to join the clan. Reasons behind this was to prevent any untrustworthy members from joining the clan in attempt to ruin the clans reputation and any other negativity.
Members List
1. Wolf@MW
2. A9

3. Zee

4. Freeze Zooka

5. iexrrr

6. LOL2/Matr0xx

7. Nitro

8. NateZDR/DemonRacer

9. UFOLogist

10. Ten Graves

11. Ultimato

12. CarbonFly/Dexterity

13. MightyAcer

14. NFMLH2

15. TheMiikaX

16. SkyBro
Wars
VS The Greatest Warriors 3-3 Tie

VS The Greatest Warriors 6-3 to The Greatest Warriors

VS -Unleashed- 3-3 Tie [Video ]

VS NFM Elites 7-2 to Most Wanted [Video] [Video 2]

VS NFM Elites rematch 5-4 to NFM Elites

Most Wanted and NFM Elites VS Phi and Team Oranje Fénix: 5-0 to MW and Elites

VS Team Oranje Fénix  5-0 to MW [Video]

VS -Unleashed- 5-4 to MW [Video] [Video 2]
Links

Ad blocker interference detected!
Wikia is a free-to-use site that makes money from advertising. We have a modified experience for viewers using ad blockers

Wikia is not accessible if you've made further modifications. Remove the custom ad blocker rule(s) and the page will load as expected.