Team Infinity is a Need For Madness Multiplayer clan. Is has been now officially disbanded as

of 31st March 2012, with the succeeding clan known as Team Oranje Fénix.
Overview
The team back then, had 37 members, which was the biggest clan in NFMM at the time. The clan's aim was to be a peaceful one, to not get involved in wars with other clans.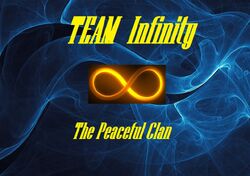 Members List
Each box to the right indicates a strike. If s/he gets 3 strikes, s/he is kicked out.

Kitty (leader) [][][]

Mattman [][][]

Pineapple [][][]

Prayers [][][]

TheLunatic9 [][][]

MacOSX [][][]

plat99 [][][]

Loser(White) [][][]

flynn [][][]

stig [][][]

BOWSER [][][]

bewket [][][]

speedmaster [][][]

DarkFlameX [][][]

sonic ( in active member. )

theBlue@TI [][][]

srilanka [][][]

f687 [x][x][x] ( kicked! )

banangreat [][][]

pplloo [][][]

astro7459 [][][]

champion( or also know as TBITW ) [x][][]

radicalone1 [][][]

3334 [][][]

monsta [][][]

ichigo ( in active member )

theBest [][][]

AJ [][][]

Eric( aka McMonstaa ) [][][]

power [][][]

gare1234567 [][][]

imi [][][]

joi [][][]

alex [][][]

RBD17 [][][]

minecraft [][][]

Red[][][]
Wars
None, due to the rules.
Links
Ad blocker interference detected!
Wikia is a free-to-use site that makes money from advertising. We have a modified experience for viewers using ad blockers

Wikia is not accessible if you've made further modifications. Remove the custom ad blocker rule(s) and the page will load as expected.