It all came out of the blue, really.
I was a little kid, 6-8 years old, playing online games and going to school. It all started when one day, I discovered Need for Madness on a website called Miniclip. I've played it for a week and I've somehow won it (it wasn't easy for me as I didn't know as much English as I do today, so I almost didn't know what I was doing). After that, one month later, I come back only to realise that the progress I made was somehow erased (probably because cookies were being pruned). At this point I pretty much left the game and wasn't aware of the things that happened within it. Fast forward to 2011/2012, and I discover Need for Madness 2 Revised and Recharged. That was an amazing comeback of memories I spent with the game. After that I discovered Bookbay's Tornado Shark Solo Run series and I watched all of it immediately (it was probably up to the point of Stage 10 or Stage 11, but definetly before Stage 12). Later, I watched the rest of his NFM videos and I discovered Need For Madness Multiplayer. I've played some sessions of it.and then retired from it. I thought that it wasn't interesting enough (lag). Fast forward to today, where I revisited NFM again and this time, I plan to stay for longer than I did before.
That was a lot of reading you had to do, wasn't it? If you want to post how you got started with Need for Madness, write a comment below! It doesn't have to be a wall of text like mine, but if you feel like it, you can do it. If you are still reading, that means that you really are interested in me. Here's where my nickname (sort-of) began (photo taken from the Need for Madness: Revised and Recharged Car Select screen):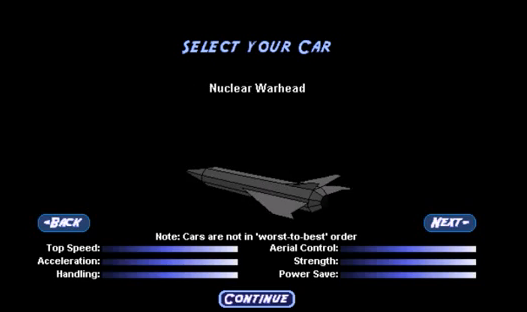 Ad blocker interference detected!
Wikia is a free-to-use site that makes money from advertising. We have a modified experience for viewers using ad blockers

Wikia is not accessible if you've made further modifications. Remove the custom ad blocker rule(s) and the page will load as expected.