Its almost impossible to do stage 16 with and other car expect R1.But i will be giving tips to finish it with M8.Here:
1.Keep your power at MAX.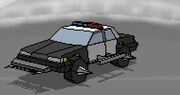 2.Point arrow at cars.
3.Avoid DR Monstaas,EL KINGS and M A S H E E NS blows.
4.Dont let any car hit you.
5.Fix anytime you have atlast 80 damage or less nor more.
6.NEVER get Bad Landings.
7.In NFMM,avoid other players,as they are smarter than AIs.
8.Do not get hit by Sword Of Justice.
Hope these tips help you in the way of the game.[added SOJ pic for decoration]
Ad blocker interference detected!
Wikia is a free-to-use site that makes money from advertising. We have a modified experience for viewers using ad blockers

Wikia is not accessible if you've made further modifications. Remove the custom ad blocker rule(s) and the page will load as expected.