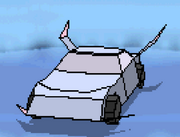 Well,some gamers call Majestic Duty The Garden Of The MASHEEN.Including me.But,i am posting this Radical One Of Need For Madness for a decoration.Now,as everyone knows,MASHEEN has it very easy to get through the fix hoops,so they call it the Garden Of MASHEEN.Now,i will give some tips:
1.Take a shortchut and hit a car,it will get wasted of course,but if and other car is behind the car,(for example Mighty Eight and Formula 7 behind him)if you dont lose the control,you will hit the car behind the car you hit,making a Double Waste.
Well,thats all.
Ad blocker interference detected!
Wikia is a free-to-use site that makes money from advertising. We have a modified experience for viewers using ad blockers

Wikia is not accessible if you've made further modifications. Remove the custom ad blocker rule(s) and the page will load as expected.