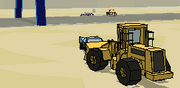 Wall Bash is a common attack, most useful with fairly strong cars with fairly good speed such as Radical One.
You should simply drive a car into wall and ram into it. Your momentum will be very strong and usually greatly damages cars, as the consecutive touches of your hit and hitting the wall should do a great deal of damage.
Ad blocker interference detected!
Wikia is a free-to-use site that makes money from advertising. We have a modified experience for viewers using ad blockers

Wikia is not accessible if you've made further modifications. Remove the custom ad blocker rule(s) and the page will load as expected.